If you have a color deficiency and want to design a webpage you either are very self-confident or looking around for some help. Of course other persons can be very helpful but they are never around the time you need them and tend to have so many different opinions. Why not stick to bits and bytes?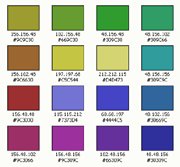 For example Color Schemer is among others a good tool for choosing matching colors. There is an online section where you can compute matching colors based on a given one. They even offer a free download called ColorPix which can be used to find your base color say on a given picture or webpage you like.
It was a great help for me when I played around with webpages and image editing tools. Of course I could choose just any colors I like and who match for my eyes. But every time I showed them to persons with no color deficiency they cried aloud. The outcomes where just not made for normal vision maybe winning at most some bad taste award. That was the time when I started using those supporting tools for color picking. And now I can be happy with the results and they don't put others to rout anymore – at least when it comes to colors.