This Janaury Robb Jacobson contacted me and told me about a new film he is producing: Life Without Color. He said: "The documentary will try to show color-blind people the technology and resources that we have available to help them distinguish colors, and as a result open their options for the careers they've wanted their entire lives."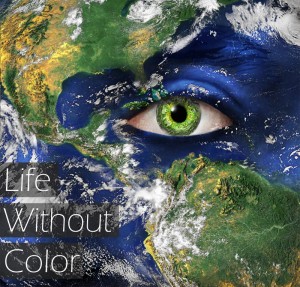 Today a Kickstarter campaign started to raise some money to produce a really nice film about people, who are affected by color vision deficiency. The stories he is telling are about those people who couldn't follow their dreams to become pilots, fire fighters, police officers and more because of their imperfect color vision.
I also often get contacted by people who are looking for a solution to eliminate this handicap. But there is no help available—at least until today. Looking a little bit behind the scenes of this film project brings us to one of the sponsors Avalance Biotechnologies, which "is a clinical-stage biotechnology company focused on discovering and developing novel gene therapies to transform the lives of patients with sight-threatening ophthalmic diseases."
Just this march this company announced an exclusive licence agreement with the University of Washington to develop gene therapy medicines to treat color blindness. And not only that. The company also gained the Drs. Jay and Maureen Neitz to join their Scientific Advisory Board. They will be technical advisors to the company on the science of vision.
In 2009 a team around Jay Neitz could cure monkeys suffering from red-green color blindness by injecting the missing red pigment genes into their eyes. And now, more than five years later, the dream of curing color blindness seems to become true—at least when we believe what those people are saying and writing about.
So for most of us who are colorblind this still means we have to wait, if this really ever becomes true or not. This upcoming film is for sure a nice insight into the lives of other colorblind people in our society. And if you like the whole project and would like to support Robb, visit his Kickstarter campaign invest some money into our future.


Life Without Color – Kickstarter Trailer from Robb Jacobson on Vimeo.
Hereafter the official press release for their Kickstarter campaign,  which started 10th of April, 2015:
—
Filmmaker to Raise Funds Online to Help the Color-Blind
Robb Jacobson, filmmaker and story producer, turns to alternative funding sources for his first feature film, Life Without Color, a documentary about color-blindness and how it dictates lives.
Austin, TX  Apr 9, 2015 — Independent filmmaker Robb Jacobson is turning to the Internet to raise funds for his first feature film project, Life Without Color (https://www.kickstarter.com/projects/lifewithoutcolor/life-without-color-documentary), a documentary that follows the lives of color-blind people, showing their struggles to achieve their dreams, in an attempt to help them. With funding as the first major obstacle to getting any film off the ground, current economic conditions don't make the job any easier. Filmmakers have to become more innovative in their fundraising tactics, and the independent filmmaking community has embraced sites like Kickstarter.com.
In line with Kickstarter.com guidelines, artists have a set number of days to raise all the funds, or the project receives nothing. Jacobson's film has a 35-day fundraising window, from start to finish. If the allotted budget ($30,000 US) isn't raised before May 14th, all pledges are cancelled and the film will not be funded.
Jacobson's film Life Without Color, showcases those who are radically affected by color-blindness. A feature-length documentary, Life Without Color uses stories told from people who have lost their jobs or worse due to their condition, as well as re-enactments to bring the viewer into a world only some of us can see. Our world is dependent on uniformly perfect color vision, and when some can't meet the standard, a great emotional rift is often created. There are some who may be able to help, but not all will have this hand extended to them, leaving them to carve out a spot in life for themselves.
When asked about what people can gain from a film about color-blindness, Jacobson noted, "Not everyone is affected by color-blindness, but EVERYONE can connect to facing great obstacles in life. Opportunities are not distributed fairly, and it can be a great inspiration to see how some people overcome great loss to find the one thing they value most. This film is about color-blindness and the human condition, showing that glory is saved for those who don't give up."
The film will be shot on location in the towns of each of the subjects from all over the continent. The re-enactments meant to portray the stories of some of the characters will primarily be filmed in central Texas. After the film is produced, it will be submitted to film festivals all over the country, the goal of which is the hometown favorite, SXSW (Austin). It is through this that Jacobson hopes to spread word of the difficulties and triumphs of a group he has ties to, as well as offer a solution to some who have struggled for a lifetime.
The Kickstarter campaign will also allow some of its backers to be in the film. The re-enactments will involve a great range of scenes involved, and some will even see significant screen time. There are even levels for backers to send in photos of their eyes to be used in the film. Jacobson wants his campaign to provide a way to get his backers involved, creating a film as diverse with its subjects as it is diverse with its stories.
Kickstarter campaign: https://www.kickstarter.com/projects/lifewithoutcolor/life-without-color-documentary
About Robb Jacobson:
Robb Jacobson is a journalist from a small town in Indiana. His obsession with story has led him to work for NPR, ABC, and several production companies to help make shows like FOX's American Idol, DISCOVERY's Porter Ridge, and TLC's My 600-lb Life. His passion for telling stories fuels his venture into the TV and Film industry, which he hopes will lead him to turn over some very interesting stones.
Contact:
Cindy Scott
Co-Producer
cindy.a.scott@gmail.com
Life Without Color – Documentary Film
313-587-6921