In case you're not colorblind, naming a color is an easy thing. But naming a color if it is a colored word of another color name (e.g. green) is definitely not that easy to accomplish.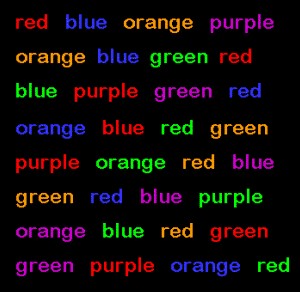 The Stroop Test was described by John Ridley Stroop back in 1935. He took some color names and just colored them differently. Try it out yourself with the graphics below. Don't read the words but say aloud the color names you see.
Did you do well? Even if you have normal color vision, after the first two lines you start struggling because the wrong names are very distracting. And how did you perform, if you have some type of color blindness?
For me it looks interesting and I can see some differences in the colors. But it's definitely just a guessing game. Colors I can almost not distinguish and therefore have big problems to name them in this graphics are:
Blue — Purple
Orange — Green
Do you know, what I like the most about this? It's the color Red I can spot easily, despite the fact I'm red-blind…