Today is the day of Engadin Skimarathon. Every second sunday in march this cross country skiing race takes place in the wonderful Engadin, Switzerland. Up to 13'000 athlets are fighting for glory and personal best time at this magnificent race.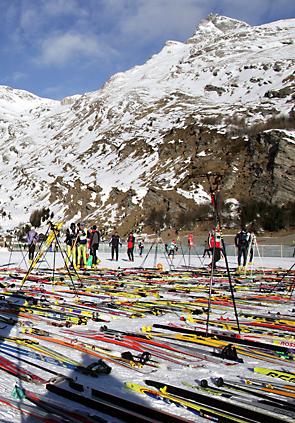 The ambitious participants show up at six o'clock in the morning to put down their skis. Before that it is not allowed and afterwards you could miss a good spot for the start. So what do you do from six o'clock till the start between 8h40 and 9h20?
An even more intersting question is: how can you find your pair of ski again before the race starts? There are uncoutable pairs in many rows lined up. And the best of all: They all look the same. Yes, really. Either they are yellow, silver or red. That's about it. So for this time it is not only the colorblind under us which have to search but everybody. Therefore many participants choose some tricks to better find their skis again. This includes putting up their poles and attaching ballons.
And what if you can't find your skis? Then your pulse will be higher up than during the whole race afterwards. You see many people either walking around with a terrified view or others waving with lonely pairs of ski. Anyway, in the end everybody grabs a pair, hits the snow and tries to survive the 42km ahead.