We are in the midst of renovating our new home. It's great and exhausting work. But if you can see what you achieved at the end of the day it is just a good feeling.
Just today I finished (momentarily) our office. Some wallpaper work, new painting, new carpet, renovation of the baseboards and some electric work. It took me quite some time to finish all those things but already when I started I had a tough nut to crack.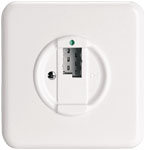 I elongated the telephone wire and at the same time I substituted the old telephone socket through a new T+T83 socket. When I started this task I new I'll get some problems because wires are always color coded. With my color blindness I have problems when something is color coded. I usually need some help which is more often than not my wifes task.
But this time it weren't only the colors which made me struggle but also the fact that I couldn't find out how to connect the wires to the telephone socket! It took me more than two hours searching the web until I found a newsgroup entry which could answer my question. So here I want to share my new knowledge about the T+T83 telephone socket.
| | |
| --- | --- |
| Code | Color |
| a | white |
| b | blue |
| c | turquoise |
| d | violet |
In Switzerland a ordinary telephone cable includes four wires a-b-c-d. They can have a whole lot of different colors but the standard and most used are shown in the table on the left. Isn't this a great choice of colors? Besides the white I couldn't tell a difference between the others. Next time a telephone standards committee decides on colors a colorblind should be in there too.

The telephone socket T+T83 looks like the diagram on the side. It has six different connecting points numbered 1a, 1b, 2a, 2b, 3a and 3b.
This makes it only one part missing – the connection table. And if you can distinguish the four different wires (!) with the right tools handy the wiring can be done in a few minutes. A nice step by step tutorial how to do the whole job can also be found here.
| | | |
| --- | --- | --- |
| Socket | Wire | Color |
| 1a | a | white |
| 1b | b | blue |
| 2a | c | turquoise |
| 2b | d | violet |
| 3a | — | — |
| 3b | — | — |
Next time it definitely won't take that long…