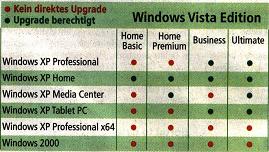 Yesterday I bought a new laptop. What I definitely wanted to have included in the package I bought was the new operating system form Microsoft: Windows Vista.
And just after I made the deal I found this upgrade list for Windows Vista in a newsjournal of a local book and software seller. Not that I want to buy an upgrade. But out of actuality reasons I had a look at it — and was very much confused.
The scanning of the image and also each individual computer display doesn't show the exact same colors as they are printed in the journal. But when I looked at the journal I couldn't make a difference at all. Even when I looked really really close, my color blindness forbid me to distinguish the two different colored circles.
Don't they have one person working at this magazine who is also colorblind? This can't be true that they choose a shade of green and a shade of red which are so close together. I thought the term red-green color blindness made it's way around…
I will write them a short notice and see what they think about it. Luky me, I already ordered the windows vista of my choice.