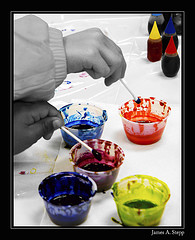 Young children need some time to grasp the concept of color naming. And often during this learning process the parents ask themselves: is my child colorblind or not?
Ronita Baras from Family Matters put together a nice list of things what parents can do if it really is the case. Have a look at the whole list in her article: Is My Kid Color Blind?
I would like to pick a few items of the whole list which I think are very important and eventually add some more.
Tips for Parents of Colorblind Children
Make sure all people working with your child know he or she cannot tell the difference between some colors, but do not make a big deal out of it.
Ask the teachers to avoid using color coding in exercises, test sheets and marking.
Some standard tests are color coded, so ask your child's teacher to help your child with it.
Don't try to learn colors with your kid (it won't work!) but instead learn to understand how he or she sees the world.
About 8% of all people are colorblind. You might want to try to find a colorblind friend, so they can share their impressions and tricks.
Don't be astonished about a bad color taste in the selection of clothes. Just help your child in choosing matching pieces.
Every colorblind person starts to develop some strategies to overcome the handicap. Learn them.
But the most important fact for parents of colorblind kids is: Don't panic!
The colorblind population is quite big which means your child is definitely not alone. And in most cases color blindness doesn't really affect their life at all. There are even completely colorblind professors—so be assured that color blindness is not really a handicap on the personal development of your child.
By the way, Ronita writes also about How to Teach Kids Colors which I think is quite useless. A child will learn the concept of colors just through everyday life. Only parents think that the naming of colors is such an important thing which should be learned much earlier. Give your children some time and they will learn it.
Photo taken by James A. Stepp