If you are looking for a nice little booklet about color blindness, which is easy to read and includes some very informative information on color vision, you have to have a look at Color-Blind: Seeying the world through different eyes.
The book consists of around 30 pages and it gets directly to the point:
"It is an invisible handicap, and those afflicted by it will certainly not shout it from the rooftops. That is probably the main reason why this anonymous group is hardly taken into account, except in a negative sense; ther still are quite a few jobs that are not accessible to the colorblind."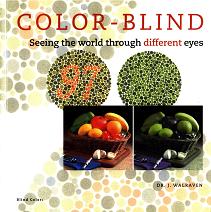 The author of the book is the founder of Blind Color, a company based in the Netherlands which tries to make the general public more aware of the existence of color blindness. They also help you to make your products to be color-proof for the colorblind and support companies, families and teaching institutes in all kind of topics related to color vision deficiency.
Starting with color in everday life, especially in a colorblind life, the book also covers the topic of how to do better when using colors for many different tasks. The last part is called color bilndness, its scientific explanation and focuses also strongly on color vision in general.
What I like very much in the booklet:
It includes many good examples about color blindness in real life.
A lot of color blindness simulating pictures strongly support the message.
There is a whole list of hints and tips for different industries what they have to think about when working with colors.
A very detailed description of color vision and the source of color blindness.
An explanation of the different types of color vision deficiency and their possible severities.
What I think could be done better:
Unfortunately the author doesn't tell us a lot about possible career choices, which is often asked for by many people.
There is no information on different color blindness tests, color vision enhancements/tools, or about possibilites to cure color vision.
Some of the simulated pictures don't seem to be correct. The color red is sometimes rendered much to dark (I'm strongly red-blind and still can spot a huge difference between the original and the simulation).
Overall it is a compact booklet about color blindness with some really good tips. You can easily learn the basic facts of color vision and its deficiencies, but if you want to learn some more details in certain topics which I mentioned above, you need further sources of information.
The booklet either in English or Dutch can be ordered directly from the Netherlands at info@blindcolor.nl.
My friend from www.kleurenblindheid.nl was so nice to send me an issue of this booklet. Thanks. And if you speak Dutch you should also visit his very comprehensive site on color blindness.