…that's what it says on the shirt you can buy at TShirtHell.com. Do they target at colorblind people or better at not color blind people? Or maybe people knowing somebody who is colorblind? Girls with colorblind boyfriends…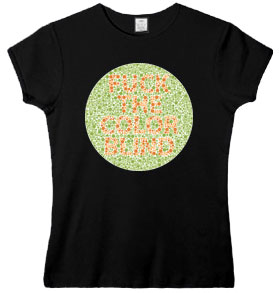 I don't know and I suppose I never will. The only thing I know is that I will not buy one of those. I'll wait till the slogan gets a bit more friendly to us colorblinds.
By the way, they use a so called ishihara pictures to hide the message from us trapped by red-green color blindness. To find out what it reads I used two different methods. First the daltonize tool from Vischeck and second eyePilot a tool for colorblind people. Funnily enough both showed me the same result :-)
The shown t-shirt can be ordered here.
Related articles:
BP advertises with Ishihara Pictures
Simulating Color Blind Vision
Battle against Color Blindness with EyePilot