Two days ago it happend again. It wasn't the first time and it definitely won't be the last this happened to me.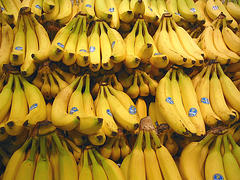 I like bananas. Not as much as my son does like or better love them, but I like them. If they are not too ripe with brown dots all over, that's how I like them most. But of course they shouldn't be green anymore. Yellow is the color, the color of a tasty bananas.
If you read the above sentences I suppose you can already spot the problem which arises when you are affected by color blindness and would like to eat a tasty banana.
Already when I am shopping I don't see the difference between green and yellow ones. They all look ok to me. And at home the same problem arises again: When are they ripening from green to yellow?
And that's why from time to time I start eating a green banana. Only one bite and even I recognize the mistake. You just can't eat a green banana, they taste horrid.
Sometimes that really bothers me. They just look the same. I can't see any difference at all. Everybody else has no problem to see the banana isn't ripe yet. But through my colorblind eyes they aren't distinguishable. And that's why I have to swallow the bitter pill or better said the bitter bite of green banana sometimes.
Related articles:
Bread Wrapped Up in Colors
Shopping for my Boy