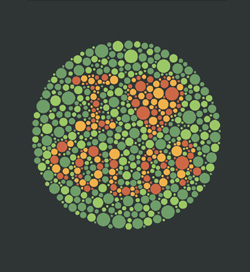 The Fuck the Colorblind t-shirt seems to be very popular. A lot of people are looking for it and I received quite some comments on it. Some people like it, others not.
Here is the counterpart: I ♥ Color. Well, I know. It's not really saying anything about colorblind people. But it is also made out of a pseudoisochromatic picture, also known as Ishihara plates. This texts or numbers usually are hidden if you suffer some type of color blindness.
Can you see it?
The shirt is available at Threadless T-Shirts. And there are some nice pictures of happy people wearing it.
Now it's up. You can decide between Love the Colorblind and Fuck the Colorblind. Which message do you prefer to put on your chest?