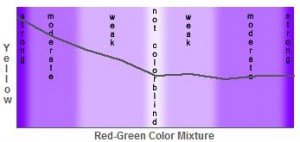 A few weeks ago I released the new RGB Anomaloscope. A slight adjustment was introduced since the first release and I also added a little survey to make it more accurate. Now I'm happy to announce the severity upgrade of the RGB Anomaloscope color blindness test.
The diagram is now split into several colored areas. As your personal matching line starts growing from the center it is possible to find the severity of your red-green color blindness. A very short line in the center means you are not colorblind, compared to a line stretching along the whole diagram which means you are suffering from a strong color blindness.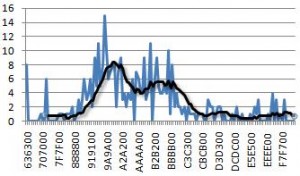 This update was based on more than 1'000 color blindness tests taken so far.I hope this helps you to find out more about your color vision.
I also checked the resulting matching points and found some interesting facts. The diagram to the side shows the colors which were matched with red.
The interesting fact is, that there are two main areas which can be identified. This points towards a possible differentiation of red- and green-blindness.
Before I release another upgrade including also the type of red-green color blindness I would like to gather some more test data. So stay tuned for a future release of the RGB Anomaloscope.