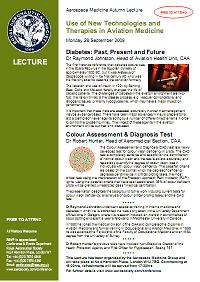 The Royal Aeronautical Society will be holding a Lecture in London on 28 September relating to Use of New Technologies and Therapies in Aviation Medicine.
One of the speakers is Dr Robert Hunter, Head of Aeromedical Section, CAA. He will be talking about the new Colour Assessment & Diagnosis Test.
The Colour Assessment and Diagnosis (CAD) test is a newly developed test for colour vision deficiency in pilots. The CAD test is completely sensitive and specific for the identification of normal colour vision and the test is able to accurately and repeatably quantify the degree of colour vision loss in individuals with colour vision deficiency.
The pass/fail criteria are based on the point at which the degree of deficiency degrades performance in critical piloting tasks, the most critical task being the interpretation of the Precision Approach Path Indicator (PAPI) lights. Using the pass/fail criteria that have been established, 35% of colour deficient pilots will be granted unrestricted class 1 medical certification.
The presentation describes the background to the work including current tests for colour vision deficiency, an analysis of colour critical piloting tasks, and the CAD test.
If you are around go and join this free lecture. You can find further information about this talk at the Royal Aeronautical Society Conferences homepage.