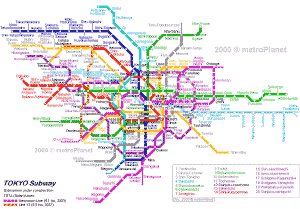 TMCnet reported that Japan's local governments and the private sector spport approaches to make life a little easier for people with weak color-discerning ability. They advise railway companies to improve their timetables and railway maps to be at least readable by people suffering from red-green color blindness. As there have more than 3 million Japanese a congentinal red-green color vision deficency this improves the public services a lot.
Yosuke Tanaka, 37, who was a member of a civic group says:
Few complaints are heard, because many colorblind people want to conceal the impairment to avoid discrimination.
Japan tries to improve the situtation slowly providing barrier-free facilities with so called "universal designs". These take into account the different kinds of color vision deficiencies and are readable for all people.
Further reading:
Japan's Public Facilities Making Life Easier for Colorblind
Related articles:
Ashamed of Color Blindness
Going to the Toilet
The Biology behind Red-Green Color Blindness