The Web Accessibility Tools Consortium (WAT-C), a collaboration of some of the world's leading accessibility practitioners, released just before Easter version 1.1 of the Colour Contrast Analyser.
Its main purpose is to check foreground and background color combinations on the Luminosity Contrast Ratio and the Color Difference and Brightness Difference algorithms, suggested by the World Wide Web Consortium (W3C), to verify if the combinations provide good color visibility.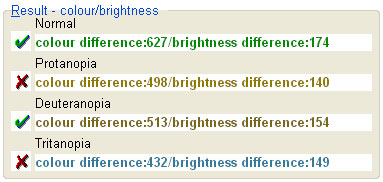 On top of that the tool offers additional information concerning the different kinds of color vision deficiencies. The ratio, color and brightness differences are also calculated for protan, deutan and tritan color blindness. Therefore you can check if your color combinations are not only good enough for normal vision but also if they are readable by people suffering from one of the most common types of color blindness.
The Colour Contrast Analyser gives also a very nice overall impression and I would like to point out some of its features.
If desired the tool can be shown on top of all your windows for a better handling.
A color picker is offered for choosing foreground and background colors.
The Colour Select reflects directly the chosen color (through color picker).
Support for Hex and RGB color values.
Slider controls for Red, Green and Blue values.
But not enough.
There is also the Select window (List) where you can choose one of your active screens and transform it, taking into account one of the following options: Protanopia, Deuteranopia, Tritanopia, Grayscale, Invert or Cataracts. The same is possible trough Select image file where the resource is either a JPG or a BMP image file.
And the cherry on the cake: Colour Contrast Analyser offers a Simulation Viewer to transform a specific screen area on the fly. The options you can choose from are similar to the ones in the Select window (list) and Select image file tools.
To subsume it in a nutshell:
Luminosity Contrast Ratio, Color Difference and Brightness Difference algorithms
Results for Normal vision, Protanopia, Deuteranopia and Tritanopia
Select window (List) and Select image file for direct transformations
Simulation Viewer for on screen conversions
Simulation options:

Protanopia
Deuteranopia
Tritanopia
Grayscale
Invert
Cataracts
I am very taken with the Colour Contrast Analyser and my suggestion is: Go ahead, download it and give it at try. All information and a downloadable zip-file (unfortunately Windows only) can be found at Colour Contrast Analyser 1.1. The tool is licenced under a Creative Commons Licence.
Further readings:
New Colour Contrast Analyser 1.1 now available
Vision Australia: Colour Contrast Analyser
Luminosity Contrast Ratio
Color Difference and Brightness Difference
Related articles:
Colorblind Web Page Filter
Web Site Accessibility
Battle Against Color Blindness With EyePilot