Even if you are suffering from color blindness the iPhone can be used as your little helper tool. Different developers had a look into this niche and developed some nice Apps specially designed to help colorblind people or to educate the ones which don't know how this looks and feels like.
Having a closer look into the different Apps designed around color vision deficiency I found 5 types or categories which can be used to describe them. Most helpers can be found in the group of ColorNaming. But there are also some interesting tools around CVD Simulation or even CVD Compensation/Daltonizing.
ColorNaming: Name a color from an image or the live picture while usually pointing to it. Some even speak the color or use some special algorithms to get the best fit. There is also a huge range in available color names.
CVDSimulation: Simulate the different types of color vision deficiency. This is similar to my online tool Coblis — Color Blindness Simulator.
CVDCompensation: In some form try to help colorblind people by adjusting certain colors so you can recognize them. Some even use some enhanced algorithms known as Daltonize.
MatchingColors: Find colors on a picture which match to the one you chose.
ColorHarmonies: Find harmonizing colors. This is certainly a perfect guide for all of us color blind, when we try to find an outfit that fits together!
I suppose HueVue: Colorblind Tools needs to be mentioned specially, as this is the only App which includes not only all of those five categories but it also the only one which tries to give some hints in color harmonies! And on top of that it's even free to use. So if you have a look into those tools don't miss that one.
Personally I don't have an iPhone and didn't test any of those Apps. So the descriptions are taken from the Apps pages and just altered to fit in. If you have any experience with one or even some of those Apps, please share your knowledge with us in the comments section.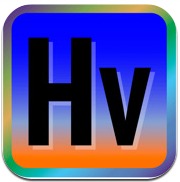 HueVue is a color tool for the iPhone that helps people with color vision deficiencies (commonly referred to as color blindness) to identify, match and coordinate colors. If you or someone you know has trouble with colors, or if you're interested in a cool color identification, matching and coordination tool, then HueVue is for you!
Type: ColorNaming, CVDSimulation, ColorHarmonies, CVDCompensation, MatchingColors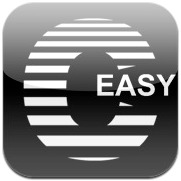 ColorBlinds Easy is the easy to use tool to help you as a colorblind person to distinguish colors and gain understanding and respect from family and friends for your color deficit by simulation. Daltonize is a method to improve contrast between red and green and with Simulate you can show your family and friends what your world looks like.
Type: CVDSimulation, CVDCompensation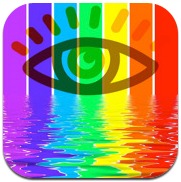 Colorblind? Unsure or confused about the color of things. Quickly find out what colors others see and what they call them with Colorblind Helper. With its simple and easy to use interface there's no more wondering whether you're wearing a green tie with a red shirt, or a green tie with a green shirt.
Type: ColorNaming, MatchingColors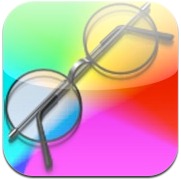 The "Chromatic Vision Simulator" is a chromatic simulation tool. It makes a simulated video of each chromatic from the built-in camera and shows you how people with a specific type of color vision deficiency is seeing the world and this in real-time.
Type: CVDSimulation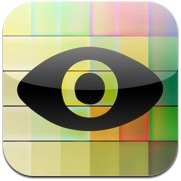 Transform your iPhone into a real-time color blindness vision device! This app simulates the most severe color vision deficiencies. It's all in real-time. Just launch the app and look at the world around you through your iPhone. You will experience how red and green colors all becomes yellow and brown.
Type: CVDSimulation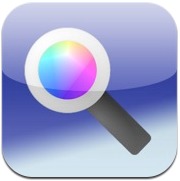 "Chromatic Glass" divides the color spectrum into segments so that such colors do not overlap depending on the type of color deficiency a user suffers from. It adjusts lightness and chromaticity of color segments in real-time to further help users to identify colors.
Type: CVDCompensation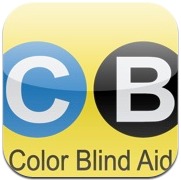 The Color Blind Aid iPhone app enables people with red-green color blindness to detect red and green in their environment and pass color blindness tests in real-time using augmented reality technology. Adjust sensitivity of red or green detection for indoor, outdoor, virbrant, dull, or test conditions.
Type: CVDCompensation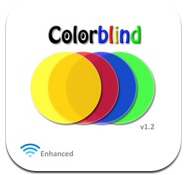 Colorblind is a game that challenges your ability to memorize and create colors. The premise of the game is simple; after being shown a color, and you must reproduce it. You have a series of 'lifelines' at your disposal that add to your strategy…but in the end…only you can determine whether or not you are truly 'Colorblind'.
Type: Game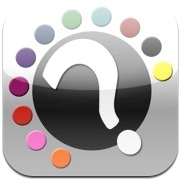 Kolorami
by Comparatel (Free App)
Kolorami analyses colours of a picture for the pleasure or to help partially sighted persons. Regular mode uses the camera to analyse the colors of what is in its visual field. The other mode 'Screenshots ' allows you to reach photographs or screenshots stored in the library, to analyse colors.
Type: ColorNaming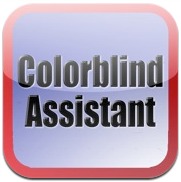 Colorblind? You are not alone! Nearly one in twelve men, and one in one hundred women are colorblind. But you're in luck: iSpectrum quickly and easily identifies any color by name! Simply touch your photo wherever you need to know the color and shake your device to reveal the RGB (Red/Green/Blue) components of any color.
Type: ColorNaming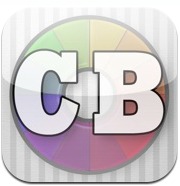 Use your iPhone or iPod Touch's photo library to quickly identify colors. Quickly draw a circle around the test area. The app performs the following:
– identifies the hue, saturation and lightness
– percentage of the test area
– highlights the identified pixels
Type: ColorNaming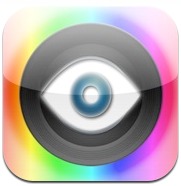 Color Reader
by IRLMobile Software (Free App)
Color Reader is an innovative concept allowing the user to "touch" camera live video to know the color of something. This is a fantastic way for people who are color blind to check colors. This app has been especially designed using the iPhone accessibilities feature.
Type: ColorNaming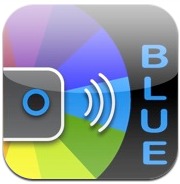 Say Color
by HotPaw Productions (Free App)
Speaks the name of the nearest color in the center of a camera preview pane using speech synthesis. If you lock the exposure and color balance while aiming at something medium neutral gray under your current scene's lighting, the color naming scheme will be more accurately centered in the RGB gamut.
Type: ColorNaming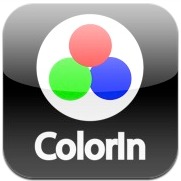 ColorIn
by Stephen Sullivan (Free App)
ColorIn detects colors with the iPhone camera. Simply point your camera and take a picture and ColorIn will tell you what the most dominant color is for that part of your image.

Type: ColorNaming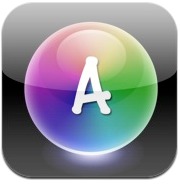 The perfect tool for anyone who is colorblind. Now you'll be able to identify the color of anything just by taking a picture of it with your iPhone! Touch anywhere on the image to see the color of that area. Displays color names and shades as well as rgb decimal and hex values. Designed to be quick and easy to use!
Type: ColorNaming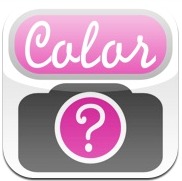 Ever looked at something and wandered what color it is? Want to know what name best describes the color you see – or the color you cannot see due to color blindness? Whether you are simply curious, or truly unable to perceive differences between certain colors, Color Curious is for you.
Type: ColorNaming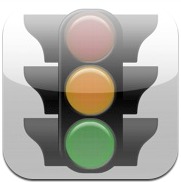 ColorHelper
by Svep Design Center AB
ColorHelper is a small utility designed with the colorblind in mind, but its also of use for anyone interested in knowing the RGB color value for a specific spot in an image. Choose an existing photo or take a photo with the built-in camera, and select a spot where you would like to know the color value.
Type: ColorNaming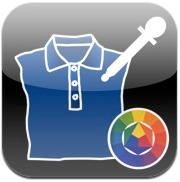 This application helps you find colors in real-time (augmented-reality) from your iPhone's camera or photos in your library. There are two modes:
– Live Mode: Play with images directly coming from your iPhone's camera
– Static Mode: Use images from your photo library or take a new photo
Type: ColorNaming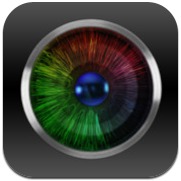 ColorDetect
by sunset software Ltd Liab. Co
The ColorDetect iPhone app gives you the possibility to detect colors in real time using augmented reality technology. The name and the RGB values of the detected colors are displayed in real time on the user interface. ColorDetect detects the colors with a 5 point detection algorithm to improve the detection quality.
Type: ColorNaming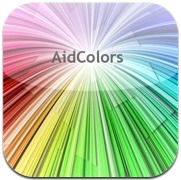 aidColors
by Tilenus Consultores, S.L.
aidColors is an application that allows visually impaired to identify the color of things. Also can be a funny game for children. aidColors allows to perform an easy and fast color recognition by means of the iPhone camera.
Type: ColorNaming