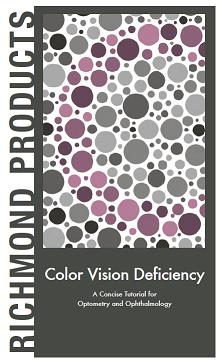 Richmond Products is one of the big sellers of examination products for ophthalmology, optometry, pediatrics, neurology, and occupational medicine. But specially in the field of color vision they are strong and offer a wide variety from different products, ranging from color arrangement tests, pediatric color vision tests, the world famous pseudoisochromatic plates tests (also often called Ishihara plates tests), and a lot more.
As color vision deficiency is still a topic where a lot of people can learn a lot more, they put together a tutorial for everyone free to download. The tutorial was put together with the help of well known researchers in the field of CVD. Specially Dr. Jay Neitz and Dr. Maureen Neitz, which were in the news with their breakthrough in The Cure of Color-Blind Monkeys.
The color blindness tutorial includes the following four chapters:
Causes and Effects
Detection and Diagnosis
Toxicology Effects on CVD & their Detection
Treatment, 'Compensation' & Cure
With its packed 14 pages it definitely covers many topics related to color blindness. If you would like to learn more about CVD it's definitely worth reading. And if you read as well my Free eBook an Color Blindness, you'll get a broad understanding on the topic.
Download: Color Vision Deficiency – A Concise Tutorial for Optometry and Ophthalmology